Note: Web content for adult intellectual audience only.
Readers assume full responsibility for their own thoughts and actions.

This website is dedicated to Fellas, my loving companion for over 10 years, who I pray to see again one day reunited with my other loving companion, his brother Peanut.
The Latest

3 May 2013

-

Relic Hunters

tap New Age ERA score

1 May 2013

- Month of Mary

7 April 2013 -

Fabian Cancellara wins

Paris-Roubaix

!

1 April 2013

- Peanut & Fellas b-day!

31 March 2013

- Easter Sunday

13 March 2013

- Habemus Papam!

1 March 2013

- Ostrowski readies group for Spring Holy Land trip

28 February 2013

- The search for St. Peter's successor begins

1 February 2013 -

Midwinter

16 January 2013 -

The exit of

Lance Armstrong 9 January 2013 -

Littlest Guy turns two!

1 January 2013 -

Your New Year's resolution is

here28 December 2012 -

The

Holy Innocents25 December 2012

- Coming of the Christ Child

8 December 2012

- Immaculate Conception

1 December 2012

- The

Black Madonna

unveiled

30 November 2012

- Feast of

St. Andrew22 November 2012

- 49th Anniversary of JFK death

22 November 2012

- Thanksgiving Day

7 November 2012

- Andrew Ostrowski's b-day!

2 November 2012

- All Souls Day

1 November 2012

- All Saints Day

31 October 2012

- Halloween

1 October 2012

-

Real Live Relic Hunter

features extensive story on "Inside a Suit of Armor"

22 September 2012

- Autumn begins

2 September 2012

- Ostrowski plans April 2013 Holy Land trip for a dozen Catholic churches

1 September 2012

- 73rd anniversary of Poland's invasion

24 August 2012

- Fellas 1st Anniversary

15 August 2012

- Feast of the

Assumption1 August 2012 -

RLRH team releases prototype video

22 July 2012 -

Bradley Wiggins delivers Britain's first ever victory at the 99th

Le Tour19 July 2012 -

Holy Landers succesfully return from desert trek amid 100+ degree temps!

14 July 2012 -

Bastille Day

4 July 2012 -

America's 236th birthday!

30 June 2012 - Tour de France

commences

1 June 2012 -

Holy Landers near historic departure

Adopt
an Animal TODAY!

Visit your Local Shelter


FACT: 70% of all sheltered animals are EUTHANIZED! Will you save at least one?

---



Got Relic?
The all-new
Real Live Relic Hunter upcoming television series and major motion picture is just a click away!
Check out all the action, follow your favorite stars!

---
---
LOOKING TO INCREASE YOUR NEWSPAPER'S CIRCULATION?
Look no further...
Affordable Rates
Andrew Ostrowski

Voluntary Contributions Freelance Writer
Large Clientele
"Inking the World since 1997"

Professional & Reputable Service Contact: 1.718.816.1462
info@AndrewOstrowski.com
---
...W TOPICS NEW TOPICS NEW TOPICS NEW TOPICS NEW TOP...

Ahh, Ancient Aliens

Were we visited by extra-terrestrials eons ago who imparted advanced knowledge and physics into the minds of primitive Man which can only explain how, for example, the Pyramids of Egypt were built so precisely and in perfect alignment with Stonehenge and Easter Island and how the stones of the ancient city of Puma Punku, Bolivia could be cut so razor sharp and precise that today's modern lasers cannot even achieve such exactitude? "Yes, proof enough, we were visited by ancient aliens", so say the soothsayers! ...No, we were not, say I.
I find it interesting and quite gullible how so many viewers of these television programs can abandon their own intellect and become suckered in to the rather compelling disposition of these T.V. show hosts, who even though PhD's, have probably themselves given up all reason for this starry-eyed dream. We do have minds of our own, unfortunately nobody wants to think for themselves, but prefer to adapt their life to whatever the zeitgeist is. I further find it bizarre, but not surprising, to hear the one-sided approach taken by proponents of these theories who never show you the flip side of the coin. Like...
Puma Punku, for example. How could all of these colossal stones be cut so perfectly by a virtual "caveman" type of society running around sacrificing themselves to the gods and drinking tons of cocoa? Surely somebody from outer space followed the Nazca Lines geoglyphs carved into the land and gave them the know-how? Think a bit more.
What the shows do not tell you is that ancient Man indeed devoted their entire life to the gods so much so that every moment of their lives, from birth to death, involved countless hours (if a clock existed then!) of service in order to please the gods and gain favor for the afterlife. In layman's terms, that means generation after generation after generation of these peoples performed redundant, meticulous work at for example, building a city or structure. Just think, a 10 year old spends 16 hours a day for 75 years using basic tools to carve a groove into a stone. He does this because his culture believes that will please the gods and when he dies, his spirit will be one with the gods. His son does the same, and then his son's son, and so on. When you consider the fact that ancient cultures lived this way for multiple generations, it becomes quite fathomable to understand how a razor sharp tongue and groove fitted stone could be achieved. But we find that hard to believe, how 12 generations of people could work at carving the same groove to perfection. That, in fact, was the case. By the way, these TV shows also don't tell you that geoglyphs, rather than being landing maps for spaceships, were actually burial landmarks so the gods would know were the culture's dead were. One host even totes an ancient Incan lapel pin which he claims is an extra-terrestrial airship because it sports a tail piece resembling a Boeing 747. He would be wise to open up a book on ancient exotic birds only to discover that many Central American species, now extinct, looked precisely like his pin.
Oh, ancient structure A in the U.K. is on a perfect line with ancient structure B in Asia which is also on a perfect line with ancient structure C in South America. Ah ha! Proof that aliens had something to do with that alignment, right? Wrong, when you stop to consider that astronomy was proportionally more advanced in ancient times than it is today. The ancients knew far too much about the stars and spacial alignment which they used to plan their cities, structures, births, deaths, and everything in between.
Ancient aliens? Rather, it only takes a few seconds to think once in awhile...


Moon Gardening

As you may know, I am an avid gardener. As May means gardening time, I thought to do a little pondering over something I heard on a reputable television talk-show. Take a look at the Farmer's Almanac gardening schedule day by day for the month of May. Look closely, then read the question I pose, then start scratching your head like me in absolute lunacy...

May 2013
1st Plant Late Beets, Potatoes, Onions, Carrots, And Other Root Crops.
2nd-3rd Kill Plant Pests On These Barren Days.
4th-6th Favorable Time For Planting Late Root Crops. Also Good For Vine Crops That Can Be Planted Now.
Set Strawberry Plants. Good Days For Transplanting.
7th-8th Poor Planting, Fine For Cultivating Or Spraying.
9th-11th Favorable For Planting Beans, Corn, Cotton, Tomatoes, Peppers, And Other Aboveground Crops.
12th-13th Any Seed Planted Now Will Tend To Rot.
14th-15th Most Favorable For Planting Corn, Cotton, Okra, Beans, Peppers, Eggplant, And Other
Aboveground Crops. Plant Seedbeds And Flower Gardens.
16th-19th A Barren Period. Good For Killing Plant Pests, Cultivating, Or Taking A Short Vacation.
20th-21st Excellent Time For Planting Corn, Beans, Peppers, And Other Aboveground Crops. Favorable For
Sowing Hay, Fodder Crops, And Grains. Plant Flowers.
22nd-24th Excellent For Planting Aboveground Crops, Starting Seedbeds And Planting Leafy Vegetables.
25th-26th Do No Planting.
27th-28th Plant Late Beets, Potatoes, Onions, Carrots, And Other Root Crops.
29th-31st Kill Plant Pests On These Barren Days.

My question concerns this moon phase planting schedule. It indicates the precise days when to plant and when not to plant. Can someone please convince me how planting an above ground plant on May 24th, 2013 is great as it indicates, but not one day later on the 25th? My argument would be that it takes days if not weeks for the plant to become established once planted, probably having gone through multiple lunar cycles before it takes root. For seeds, this is even more apparent, yet, on this schedule it says seeds will rot if planted on the 13th but not on the 14th. Why specify an exactitude of days, when perhaps the real factor is the temperature? I agree that the moon's force may draw moisture to the surface more, but explain logically to me how one-day differences can make or break a plant's growth and yield? Moon gardening, lunar-cy?



Archives

Poles Shine Strong on Sagan's 69th Anniversary

On the night of March 24th, 1944, 220 POWs at the Stalag Luft III prison camp in what is now Sagan, Poland lie secretly in waiting for what was undoubtedly the greatest escape ever in the annals of war, and we have a few Poles to thank for it. As I've mentioned before, the 1963 film The Great Escape is one of my favorites. Here now is a glimpse of the true story of that escape, spurred on by a handful of crafty artisans including a Polish architect and a Polish muscleman. Let's take a look.

The "Big X" Committee
Central to the entire escape operation was the so-called "X" organization, headed by RAF Squadron Leader Roger Bushell and Group Captains Harry "Wings" Day and Herbert Massey. After Day was transferred to an Officers-only camp midway into the escape's planning, Massey took control as SBO, or Senior British Officer. Together they assembled the best escape artists in the entire camp for a cumulative effort at blitzing out a proposed 250 men through 3 tunnels! But it was the 33-year-old South African born Bushell who was the absolute mastermind of the entire operation, earlier being black-booked by the Gestapo as a potential trouble-maker. Bushell's goal was to cause the Nazis so much ruckus that they would be forced to divert soldiers away from the battlefield to find the escapees. It worked.

Brains and Brawn
For those of you familiar with The Great Escape, you will recall Charles Bronson playing the part of Danny Velinski, tunnel king. In actuality, Bronson's role was an amalgamation of several real men, principal among them being Flying Officer (F/O) Stanislaw Krol. This muscle-bound Polish workhorse, who celebrated his 28th birthday just two days before the escape, was largely responsible for boring out the tunnels. But escaping through a tunnel was only as good as its concealment, and that is where Polish architect Wlodzimierz Kolanowski lended his expertise in designing the tunnel traps. Kolanowski placed entrances to two of the tunnels directly underneath hot stoves located in the center of the huts which the POWs moved via a pair of bed boards, greatly reducing the likelihood that a German escape detection guard, or "ferret", would discover them. The other entrance was placed underneath a shower drain, with pipes rerouted and a 2'x2' removable cutout being made in the tile floor which could be quickly put back in place.

Key Players
An integral part of the escape involved a potpourri of talents from POW "experts" in particular fields. Among them was the Scrounger who was responsible for acquiring everything from tools to timetables through blackmail, deception, and theft. The Manufacturer's task was to produce equipment designed to get the job done. Escape outfits were the responsibility of the Tailor, who often dyed RAF uniforms to resemble gentleman's lounge suits. Security and Diversion experts such as F/O Pawel Tobolski worked hand in hand, some organizing singing choirs to offset any noticeable noise during tunnel construction. Dispersal men had the especially difficult job of camouflaging roughly 200 tons of dug tunnel sand and dirt. And escapees could only stay free thanks to the Forger, whose job was to produce counterfeit documents, business cards, train tickets, and Ausweise passes (permission to be on Reich property).

The Great Escape
Tom, Dick, and Harry were the names of the three tunnels. Unfortunately Tom was discovered and destroyed, while work on Dick was halted due to new above-ground hut construction. But Harry proved successful. Imagine what it was like descending 28 feet below ground, then riding a trolley railway 336 feet within a 2'x2' opening. Several POWs withdrew due to claustrophobia. A false alarm occurred when Tobolski entered hut 104 dressed as a German soldier, his escape outfit! Nevertheless on that heroic night, the POWs proceeded to escape, despite the tunnel exit being 30 feet short of the woods, a surveying blunder requiring a rope signal to be set up. As man after man emerged and darted into the woods, unfortunately a misinterpreted tug on the rope exposed an escapee to the guards as whistles blew, leaving a total of 76 men temporarily escaping.

The Aftermath
73 of those men were eventually caught, with only three making it to freedom. Infuriated by the escape, Hitler immediately ordered all 73 to be executed, however was persuaded to settle on a lesser number. 50 escapees were then brought to remote locations and shot in cold blood. Among them were Bushell, Krol, Kolanowski, Tobolski, Major Antoni Kiewnarski, and Flying Officers Jerzy Mondschein and Kazimierz Pawluk. Their ashes are buried in the Old Garrison Cemetery in Poznan, Poland. We honor these men.

Asking Questions along the Via Crucis

I. JESUS IS CONDEMNED TO DEATH - Imagine that you are standing on the Lithostrotos, the first station, where Christ was condemned by Pontius Pilate, scourged, spat at, and crowned with thorns. Ask yourself: "How often have you too been scourged for defending what is right and unpopular?"

II. JESUS CARRIES HIS CROSS - "Ecce Homo" (Behold the Man) said Pilate as he presented the cross-carrying Jesus to the approving crowd. Be truthful, do you find yourself going along with the crowd on issues like abortion and contraception, or do you resist giving in to "the popular vote?"

III. JESUS FALLS THE FIRST TIME - A white-stoned Polish chapel marks this station. Obviously out of energy and burning his own muscle cells, Jesus succumbs to the weight of the cross. Are you willing to expend your energy and fall down in defense of Christ because of controversy, rejection or unpopularity?

IV. JESUS MEETS HIS AFFLICTED MOTHER - Just before the long climb up the Via Dolorosa, you can only imagine what facial expression Mary had at the sight of her son. When was the last time you examined your life and said: "Would my mother be proud of me, am I doing things according to God's will?"

V. SIMON OF CYRENE IS FORCED TO HELP CARRY THE CROSS - Rather than have their "prize" cheated from them, the Roman soldiers pressed an onlooker into involuntary service. How often do you volunteer yourself through prayer, fasting, and almsgiving?

VI. VERONICA WIPES THE FACE OF JESUS - Veronica must have been like a "needle in the haystack" for showing care and compassion as she wiped the bloody sweat from Christ's face. Be honest and ask yourself: are you more like the needle or more like the haystack?

VII. JESUS FALLS THE SECOND TIME - A tiny Franciscan chapel marks the station where Jesus' death notice was placed for all to see. What do you want your own obituary (your death notice) to say when it's published in the newspaper?

VIII. JESUS MEETS THE WOMEN OF JERUSALEM - "Don't weep for me, but rather weep for your children" as Christ told these women. He means your children. What are you doing about it?

IX. JESUS FALLS THE THIRD TIME - Christ would have easily been able to see the rock of Calvary in the short distance. Yet, he got up again on his own and continued towards his death. Is your soul prepared for death?

X. JESUS IS STRIPPED OF HIS GARMENTS - Jesus' clothes were stripped to humiliate him because the body was considered a sacred vessel. When channel surfing, do you change your television channel when you come across movies displaying nudity and encouraging sins of the flesh?

XI. JESUS IS NAILED TO THE CROSS - Left wrist, nailed. Right wrist, nailed. Two feet crossed, nailed. His hands and feet were vehicles of doing good. Do you have symbolic "nail holes" in your hands and in your feet? If not, then why not?

XII. JESUS DIES ON THE CROSS - You are standing on Calvary and reminded of the coldness of Christ's death, that it was not the scourging, or crowning with thorns, or weight of the cross that made him suffer so much. Rather, it was our own sins. Have you been to Confession? If not, your sins contribute to his ongoing suffering.

XIII. JESUS IS TAKEN DOWN FROM THE CROSS - You remind yourself of the late John Paul II's funeral. He was glorified because he tried his best to be perfect like Christ. Are you trying your best to be perfect, why not?

XIV. JESUS IS PLACED IN THE SEPULCHER – You've arrived at the final station, the dimly lit Tomb of Christ. When you die, will your soul have earned enough electricity to light up your way, or will you be left behind in the dark with the millions who chose not to live for Christ? Keep your battery charged.


God Help Our Senior Citizens

After witnessing the ordeal my father had to endure during his recent hospital stay, I want to enlighten those of you who might one day consider institutionalizing your senior loved one for that tender loving care you may think is provided. While I agree that a decision to admit a senior to a nursing home or rehabilitation center may sometimes be necessary, I urge you to reconsider. In short, you can't remove a senior citizen from their home of many years and expect them to adapt to a new environment. My father's one week stay in the hospital caused him to lose 21 pounds, become depressed, develop a lung infection, and immobility to the point where the doctor recommended that he be checked into a rehab center for physical therapy. But should we be surprised that so many senior citizens enter a hospital or nursing home for reasons other than being sick, but then actually get sick because they're in the hospital or nursing home? Sure, they feed you, but half the time an elderly person can't reach the tray. And if it's reachable, the food is terrible. My father got malnourished after a week of only being able to eat tapioca pudding and ice cream. Thank God I got him out of there and declined the rehab center, where I'm certain he would have died. He is now comfortably back in his home among his family. My senior friends, please talk to your children now and insist they keep you in the warm, comfortable, and familiar embrace of your own home. As Dorothy said in the Wizard of Oz, "There's no place like home".


Angels and Demons: The Forgotten Truth
As we still try to fathom what occurred on that fateful day in Newtown, CT, let's take a look at what increasingly is becoming a forgotten truth. As you know, 28 people died that day, 20 of whom were 6-7 year old children at the Sandy Hook Elementary School, 8 adults including the killer's mother, and of course the killer who committed suicide. Death at any age is sad, but since this incident involved twenty young children, I think it is appropriate to focus on them to better understand my point. Charlotte Bacon, Daniel Barden, Olivia Engel, Josephine Gay, Ana Marquez-Greene, Dylan Hockley, Madeleine Hsu, Catherine Hubbard, Chase Kowalski, Jesse Lewis, James Mattioli, Grace McDonnell, Emilie Parker, Jack Pinto, Noah Pozner, Caroline Previdi, Jessica Rekos, Avielle Richman, Benjamin Wheeler, and Allison Wyatt are the youngsters who lost their lives as viciously as can be imagined. One of the children was 7 year old Chase Kowalski, who was pictured in last week's issue of the Am-Pol Eagle. This boy's parents seemed to exemplify the sentiment of the entire parental group with their words of faith and hope. Indeed, as Msgr. Robert Weiss, pastor of the boy's parish of St. Rose of Lima pointed out, "This whole community was very devoted and rich in their faith."

In the days following this tragedy, as you probably noticed too, there was an incredible outpouring of emotion from virtually the entire world. It was truly heartwarming to see so many people offering condolences, assistance, and prayers to everyone affected. But what I found particularly disturbing was that, upon hearing multitudes of reporters, interviewees, moralists, ethicists, priests, ministers, talk-show hosts and even the President speak, not one of them, NOT ONE, even to the smallest extent, mentioned that this tragedy could have been the work of the Devil. Respectfully, the crux of my point being that, ironically, these same people were sincerely falling to their knees, offering prayers and truly invoking God and his angels so much so that tears were coming out of their eyes. Why, my friends, if we give so much credence to believing in God, heaven, and angels, do we give zero credence to the existence of Satan, hell, and demons? Is it some kind of immature and unpopular notion in our "modern day" to consider that Satan, the Devil, negative energy, or call it what you like, can spur-on some people's malevolent actions? Or is that merely old-fashioned folklore that got replaced with modern man's intellectualism? Yes, the perpetrator of this crime had a mild mental condition, however had no history of violence, but came from a split family, had no apparent faith belief, was isolated, rejected, and in the vicinity of deadly weapons. Is that not an "open wound" waiting to be infected by evil? We just saw a similar incident happen in Webster, NY with the killer using the exact same modus operandi. Sure we should genuinely try to find the root cause of these terrible tragedies, looking meticulously at background histories, drugs, peers, and even do autopsies on the killers. But to neglect consideration of which we hold to be true, that being belief in spiritual forces, as a possible cause, is clearly hypocritically foolish. If we believe that God and his angels exist and have power, we should equally believe that Satan and his demons exist and have power. As I've said before in past columns, evil makes itself known very obviously, its hallmark evident usually around major religious holidays like Easter and in this case, Christmas. Are not 6-7 year old children the perfect examples of innocence, love, and grace? To fire three to eleven bullet shots in the faces of each of these twenty children as was done was undoubtedly meant to extinguish and obliterate that innocence, love, and grace in light of the Christ child's coming. Yet there is a bigger question to ask, and that is, do we ourselves have "open wounds" being infected to a smaller extent? Is evil perhaps ever so subtly entering our thoughts and actions? In what ways are we extinguishing that which is good? My friends, if there is a God, it stands to reason there is a Devil. Perhaps our "intellect" in surveying multitudes of excuses for heinous acts such as this is Satan's greatest asset. Maybe we can learn a lesson from little Chase Kowalski and his classmates in keeping our thoughts angelically pure as theirs were, enabling us not to forget that evil equally exists all around us.


The Energizer Battery of Battle

As of this writing, there is now a cease-fire between Israel and Hamas. But don't bet on it lasting too long. If you're scratching your head as I am, need we explain why? It appears the presence of diplomatic peacemakers at the Middle Eastern podium is nothing more than a Vaudeville show, and like a broken record, year after year the same tune keeps playing. Having been to the region three times, let me tell you why this conflict, as the Energizer battery says, keeps going and going and going. What happens when you have a repressed people who have inhabited a land for eons, gradually witness an encroachment by another people who are financially superior? That is a lose-lose situation for them. May we draw an analogy to the American Indian, when Colonial settlers invaded their space, and some went on a scalping rampage? We seem to automatically label some people as "bad" because they fire a rocket and ask the question, "How can they do such awful things?" when perhaps we should be asking, "Why are they doing these things?"


Is Yours a Holiday?

Christmas is just around the corner. If you've dropped by Home Depot or Lowe's, December 25th might seem like tomorrow given the cornucopia of two-story tall air filled balloons of Santa, Rudolph, and the Grinch, strings of lights running the entire length of the store, and every style of ornament decoration this side of the Mississippi. It appears the hoopla is in full swing…yet do we know better? I find it particularly noteworthy to remember that truly authentic celebrations of holidays are primarily supposed to be acknowledgements of Holy days by most ethnicities. For example, where secular society might prepare for Christmas by reveling in a giant Frosty the Snowman balloon, the truly genuine Polish traditionalist might put on an heirloom Koledy phonograph record to sit and meditate on its splendor. As Tiny Tim said, "God bless us, every one."


The Popular Vote

If you believed my earlier prediction that Barack Obama would win the presidency by 3-5%, you should have legally booked your bet with Las Vegas odds-makers, in which case you'd be a little bit wealthier right now. Indeed, such was the margin in those key battleground states we all stayed up until midnight to watch. What perturbs me is not so much the victory, but how it was attained. Looking at the electoral map of the states, we saw that 2/3 of the country was painted in red, while 1/3 was in blue. What's wrong with that picture? Even the popular vote went to Romney, who 63% of the people said would do a better job at fixing the economy which was supposedly everyone's primary concern. Yet he didn't win. As I've always said, perception is everything in politics, regardless of the record. Perhaps it would be true to conclude that Obama did not win this election, rather, that Romney lost it. Now that the election is over, I can simply tell you that my own conscience is somewhat grieved given the fact that another 1.2 million innocent little pre-born kids will be aborted this year, about 3,300 per day, in this modern-day holocaust. As a suggestion, perhaps the church-going Democrats among us who cheered "hoorra!, hoorra!" at that midnight hour might ponder that fact the next time they kneel down in prayer.
But first, to clear up the Democratic rebuttal to my comment that Obama lost the popular vote, indeed he did, if the voting census was measured proportionally. I'm talking about the representational disparity that exists between people living in overcrowded urban areas versus those living in spacious rural areas. Studies indicate that the closer people live to one another, the more likely they vote the same way. Therefore, the balance of Republicans and Democrats is completely skewed based on this fact. So my question is, why should a typical state with "red" covering 98% of its towns lose to "blue" just because a few hundred thousand people living on top of each other in big cities vote the same way given this psycho-social phenomenon?
The definition of "popular vote" is: "a majority decision in choosing a candidate". The key word is "decision". Those above studies also indicate that the closer people live to one another, the less likely they are to "decide" for themselves, but instead follow the community trend. That's why the popular vote is erred due to big city community populaces voting without really "deciding". Granted some in cities do decide independently, but if you want an accurate measure of popularity, look elsewhere.

Inside a Suit of Armor

Traditionally, the month of October is tagged as "Arms and Armour" month. (We prefer the classic spelling of Armour!). But how many of us have at least a working knowledge of what absorbed the mind of the medieval period, paving the way for the Renaissance and many of the values and beliefs we hold dear today? If asked, your average street corner pedestrian might very well recollect a time where men drew swords and sported shiny helmets, and yes, maybe you would hear a word or two mention of long-haired damsels in distress atop some castle tower calling for their Romeo. But that's it, a very blunt, uninformed response to what has tragically been a long, lost iconic world. Indeed, even some people categorize anything older than a few centuries in the same class as the dinosaur age.
But let's step into a time machine and take a look at some intricate details of the helm of the "Knight in Shining Armour". For it was this iconic symbol that evolved into our everyday code of chivalrous behavior. If it weren't for the Knight, perhaps we would be living in an entirely greedy, selfish, and unethical world. Originally serving in a protective capacity, or goal is to explore the physical symbol more closely in an effort to remind ourselves of the origins of what we know as being a Knight in Shining Armour.
The enemy is approaching. Are you ready? Then have your loyal squire assist you in mounting your armour for battle...or, if you would prefer to joust, see the link below.
The Pig-Faced Bascinet Helm, Medieval, circa late 14th C.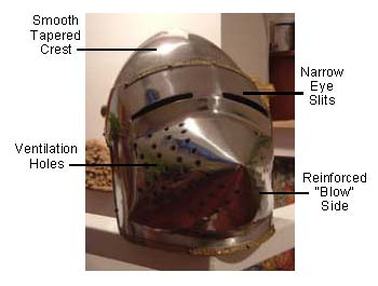 Smooth Tapered Crest
The crest of this helm was intentionally designed to come to a point at the top. This caused any downward sword strike or oncoming lance to deflect off thereby preventing the force to be applied to the helmet and knight.
Narrow Eye Slits
An ingenious solution which prevented exposure while simultanously allowing sight. In actuality, an indvidual can see perfectly through a hole no smaller than the eye's pupil. The slits were therefore pupil height. And being that his enemy was around him, not on top of him, peripheral vision was made capable by the elongated slits.
Ventilation Holes
Without oxygen, you wouldn't be able to do much in any full contact activity. Holes were therefore drilled into the faceplate, the vast majority being on the right side. Why so? For two reasons. First, most men wielding a sword were right-handed. Even today, most people are right-handed. A right-handed knight's swiftest facial blow landed on his enemy's left cheek. Therefore, the more carbon steel present on that side, the less chance of penetration. Secondly, for pretty much the same reason, even in tournament combat, a charging knight on horseback holding a jousting pole in his right hand would strike his opponent's left side. Hence, the reason for the next point.
Reinforced "Blow" Side
Medieval helmets such as the one pictured were typically made of 13 gauge carbon steel. However, within the helmet, certain adjustments were made by the master armourer to maximize protection depending on the combat. For example, a custom made jousting helmet would be gauged something like 13-12-13, where the blow side would be forged slightly thicker than the rest of the helm. To counter the weight off-balance, steel would be added here and there to allow the helm to sit atop a knight's head completely balanced. At one point, helms were crafted with such sophistication that indeed, one could shop for a helmet for every occasion. And if you're wondering why the above helm was called "pig-faced", yes, the sophistication became so profound that names were even assigned to the numerous categories based on how the helmet looked!
For a complete analysis of "Inside a Suit of Armour" including additional armour pieces, weaponry, and a jousting video, have your archers point their arrow to October's feature presentation at
Real Live Relic Hunter
.
---
Debunking the DaVinci Code

Isn't it interesting when some lone desperado like Karen King, who I'm embarassed to affiliate with Harvard, makes claim that she has old papyrus text stating that Christ was married? As if to say, suddenly she made some phenomenal discovery, look at her. And incredibly, we look and start to question things. What fool would pay credence to anybody making such a ludicrous remark? Ludicrous not because of what she states, but ludicrous because she stated it! To think that eons of biblical research has been done by countless scholars who unanimously conclude that Christ was certainly not married based on multitudes of data, and then to suddenly give any credibility to this woman is absolutely ridiculous. Has the media come forth to make this point? No. Instead, the woman will probably now write a book and make $100 million because of our stupidity. I find it interesting that we tend to give even 30 seconds notice to this claim, all the while ignoring roughly 2000 years of historical fact as recorded. But no, let's secure our seat at Ron Howard's film and entertain the idea of a grossly inaccurate account. Make no mistake, this is not King Kong we're talking about, but a claim and a film which profoundly opposes central Christian belief and potentially igniting rebellion and rejection of that belief. We talk about the recent video that uproared the Muslim world, where was the Christian uproar in reaction to these claims?
For the uniformed and people who prefer to base their lives around media reports, the DaVinci Code attempts to infer the claim that "Well, the Catholic Church must have known about the marriage between Jesus and Mary Magdalene because they tried to cover it up by assassinating those who knew and would tell." Yet here is where the film tries to manipulate the facts. Indeed, as we know from the historical record, the Catholic Church had some very bad administrators up to no good during the medieval period. It is true that these leaders, perhaps even a few Popes, took a part in ordering assassinations. But where the film derails is in its neglect to state the real reason why the Church too a role in assassinations, which was purely for financial gain. During the period, coming out of the Dark Ages, the Church was obviously in the business of expanding and attracting more people across Europe. Obviously, the more followers you can have, the more income is brought in, and the richer you become. Any kind of "hiccup" along the way would greatly tarnish your efforts, even blackmail, extortion, and private wheeling and dealing land and estate deals took place involving church officials. Incidentally, even many years later, just look what happened to Joan of Arc! So, in actuality, the Church did take a part in these assassinations, but not because the story was true and they wanted to prevent it from escaping, but rather because the story was false and being made public would greatly set back their finances, nobody would want to join, and therefore no money would be coming in. It was purely an economic strategy, albeit a terrible one. Yet today, we see individuals manipulate the historical record to their own liking, often profiting from the gullibility of the average Joe.

Pro-Life, etcetera, etcetera
Perhaps one of the biggest issues facing society today is the continuing debate between the Pro-Life and Pro-Choice movements. Of course, most people are generally familiar with the positions taken by each. Pro-life proponents are in favor of allowing a fetus to be born while pro-choice proponents are in favor of a woman's desire to decide this. The arguments for each are both strong and weak depending on which perspective one takes. In essence, it may boil down to be another case of that classic "church vs. state" dilemma. However, this issue aside, it is this month's featured story on AndrewOstrowski.com for another reason. Don't you find it just a little bit interesting that many so-called Pro-Lifers have additional "etcetera" criteria tagged on to their stance? Some, such as Mitt Romney for example, hold fast to their view that they are flat-out against abortion. The sincerity and authenticity of their response harkens up feelings of divine wisdom and nobleness on their part as they seem to stand up for protecting the rights of the unborn. Yet, never before was the word "etcetera" more critical than when it is applied to the many Pro-Lifers, mostly politicians, who make use of it. Taking the position that one is "Pro-Life but allow abortion in the case of rape" is absolutley ludicrous. Is this to say that a rape-conception fetus is somehow different, inferior, or "of lesser worth" than a fetus conceived otherwise? The problem it seems is that proponents of the "etcetera" clause have shifted the very foundation of the Pro-Life position away from its core, that being the sanctity of all life, and onto the parent and the upbringing responsibility. However, the heart of Pro-Life has always been about conception, the fetus, and the eventual child, NOT about the circumstances that brought about the life. The sanctity of all life being the ultimate focus. Granted society has its share of problems, including having to deal with heinous acts such as a rape-conception. But what kind of integrity does a society possess when it crafts exceptions to its foundational doctrines such as "In God We Trust" while simultaneously believing it is in the right? Have we not then created our own "God" by doing so, carefully adjusting principles to suit our needs? Do you have any "etceteras" of your own?
Losing My Religion
That's me in the corner
That's me in the spotlight
Losing my religion
Trying to keep a view
And I don't know if I can do it
Oh no, I've said too much
I haven't said enough
Remember that tune? The lyrics drawn from the 1991 release of
Losing My Religion
by R.E.M. The melody came to me recently while learning via the EWTN network of a continued number of Eastern European people who for one reason or another are "losing their religion." It was interesting to see the growing number of folks there who prefer to defy established faith, historical fact, and humbleness and humility, preferring to convince themselves that they are somehow equal to the general religious populace on the ultimate road to salvation. For all intents and purposes, just living on earthly times. This may be perfectly fine, but it fails to admit the fact that, since its origin, European culture has not been capable of attaining grace on its own. Indeed, religion has played a major role in the development of Eastern Europe, used most notably in the fall of Communism. The bottom line in all religions of Eastern Europe is the reception of grace to assist along the path to heaven. Indeed, if European Man were capable of attaining grace without religion would there have been any need for the prophets of old or even a Messiah? How then could they have had any wars, if they were so perfect to begin with? Perhaps it could be argued that, given the rocky history of Eastern Europe, supernatural evil may be more powerful than physical Man, therefore justifying the need for its religion.
Consider this
Consider this, the hint of the century
Consider this, the slip
That brought me to my knees, failed
What if all these fantasies come
Flailing aground
Now I've said too much
Crisis in the Catholic Church
As you are well aware, attendance at the Catholic Mass has been tragically decreasing. Our eldest readers may recall how some 40 years ago, parishes offered Mass almost every hour on Sunday, with filled pews and often standing-room only High Masses. Today however, there is no problem finding a seat. In fact, recent statistics reveal that fewer than 25% of Catholics attend Mass. The remaining 75% are categorized as "A&P" or "Ashes and Palms" Catholics, stopping by a church twice a year to retain their "good standing." I therefore pose this question very somberly and seriously: One need not be a rocket scientist to honestly calculate that 40 years from now, at this rate, will there be a Catholic Church? This is a terrible fact that confronts us. Parishioner counts are down, priest numbers dwindling, churches closing, parishes consolidating, secularism growing, spirituality diminishing, and parents failing to raise their kids through devout, faith-inspired lives. Do we really care? Whether you agree with my hypothesis or not is perfectly fine, but there is no denying it… the Catholic Church is headed for serious trouble. Let's try to approach this logically.
Fact #1: Statistics indicate that since the 1990s, parishioner counts in U.S. Catholic churches have been dropping at a disproportionate rate, meaning year after year the number of people attending Sunday Mass decreases as the neighboring populace increases. In a healthy equation, one should equal the other.
Fact #2: Fifty years ago, it was common to find a 20-year-old man entering the seminary to become a priest. Today, a 20-year-old man entertaining thoughts of becoming a priest is nowhere to be found.
Fact #3: Probably the most tragic ingredient in this poisonous mix is parenthood. How many parents today prioritize spirituality in their child's upbringing? Seven days a week, kids are hit with every kind of secular distraction under the sun. Life has now become totally Machiavellian, that is, entirely humanistic and physically driven. What values will these kids then pass on to their own children, and then these children's children, and so on? Indeed, at the rate we're going, barring some miraculous spiritual evolution, great-grandchildren will remember the Catholic Church as an old, outdated institution, a token of memory gone with the wind that you can only read about in history books.
The solution? With statistics indicating that priests will eventually disappear, the Church may be forced to allow the Diaconate more control. Women may have to be incorporated into the Mass, which will once again be restructured, and allowed to perform the transubstantiation. Local "house churches," those early apostolic meeting places, may once again appear to counter the closing church/consolidation/real estate issue.
The picture I've painted is bleak, and I don't like it. Of course, we can offer an honest prognosis, but there may be something far more effective than any words. It was once said that a solo prayer can move more earth than 3,000 Caterpillar tractors. Perhaps there is hope yet.
The Olympics of Faith
The Olympic games are always exciting to watch. Every four years, countries come together in a mass effort to promote the values of friendship, brotherhood, and unity. Indeed, after watching the opening ceremonies and the parade of nations, one cannot help but feel mutually part of the human family, despite all our troubles and conflicts, disease, strife, and war. Everybody's waving and cheering one another at this multi-million, perhaps billion, dollar spectacle. But it dawned on me that, if so much hoopla can be made in bringing about the Olympic opening ceremonies, and rightfully so as they are a great morale builder, can't we ever have such a thing as an "Olympics of Faith"? Imagine all the nations of the world coming together to share ideas on spirituality! The parade of nations would consist of not athletes, but everyday people of different faiths with a desire to promote the same values of the traditional Olympic games: friendship, brotherhood, and unity. Imagine events such as round tables of Christian, Jewish, Muslim, Buddhist, Hindu, and a host of other faiths all sharing ideas for the betterment of us all. Comparing and contrasting different belief systems, who is God, where does he exist, how do we attain salvation, what do we do to go to heaven, etc.? Would this not be the ultimate form of unity, everybody trying to brainstorm ideas on our ultimate fate? What could be more important than that? In a world where religion, not sport, is a major factor in its division and one of the main causes for war, should we not be making an effort to understand one another's point of view as we host an Olympics of Faith every four years? Ironically, we seem to give most of our attention to an otherwise temporary thrill in the Olympic games. At the moment it is as if the London summer Olympics are the center of our minds and all else is secondary. But, do you remember four years ago, we thought the same thing about the Beijing Olympics...and now we don't. And four years before that we thought the same thing about the Athens Olympics...and now we don't. Yet, year after year we hold firmly to the belief that we have a soul and after we die we're going to heaven. But we give this absolutely no hoopla, no opening ceremony, no parade of nations, no coverage, and no waving and cheering. How ironic, this thing called spirituality we deem everlasting and our ultimate goal, is given the very least attention. If we believe a human lifespan is say, 75 years, and we believe a heavenly lifespan is infinite, should we not devote the majority of our time to thinking about the latter? One need not be a religious person to do so, this is simply common sense: We are supposed to think most about the thing that carries the most weight, right? Yet, we continue to occupy our interests in the temporary thrills of life such as the Olympics, opting to bypass consideration for the everlasting thrills of spirituality. Yes, we want our spirit to live forever, but we just don't want to ever think about spirituality. How ironic. Perhaps what the world needs is an "Olympics of Faith".
Lech Piasecki: The King of Two Deals on Two Wheels
With the start of the Tour de France beginning on June 30th and running through July, this month's feature story goes to the one and only Lech Piasecki, a true hero of Poland! Piasecki is a time trial specialist, the type of bicycle race pitting man against clock in an all-out exertive effort. He has always been one of my favorite cyclists, but not so much for his tenacious strength on two wheels, but more so for his intellectual moxy for making big deals. You see, after Piasecki won the Amateur World Championship in 1985, a hoard of pro cycling teams bombarded him with huge contract offers. The Italian team Colnago won over his heart (literally speaking too!) but at a price. Despite the "official" report, the word on the street was that Piasecki, now realizing his worth, petitioned the Polish Cycling Federation to garnish another deal with Colnago before he signed his deal. The Federation would only release Piasecki with "an ample supply of racing bicycles for the development of Poland's cycling program". In short, Poland got the bikes, and Colnago got Piasecki, who was largely responsible for today's Polish cycling sport. In celebration of Lech Piasecki, watch him in action at the 1987 Tour de France as he hammers home a 7:09 time trial effort in the below video!
Sixty Seconds of Empathy
Have you ever seen a street-side cat rummaging around a garbage can looking for food? How about a herd of cattle being blindly steered into a slaughter house? Or your local zoo, where living, breathing creatures are put behind bars for our entertainment? We never really think about these things, not even for sixty seconds, do we? Instead, the run-of-the-mill tragedy after tragedy continues to happen. Save for a few lonely desperados such as Greenpeace, ASPCA, and PETA, 99% of us are ignorant of animal welfare. We think nothing of where the hot dog, hamburger, or chicken cutlet comes from...only its taste. We think nothing of the shoes on our feet, probably leather...only how they look and feel. And how about the pleasant air freshener in your living room, did you know that some rabbit probably died just so you could smell it?
Interestingly, we sincerely believe that we hold empathy for our war dead on Memorial Day, we kneel and pray for our beloved deceased at church services, and we are entirely shocked at blatant, cold blooded murder that we hear about in our daily news and television. Even the sincerest among us, in earnest, can be so hypocritically guilty in light of our feelings towards animals. Think of the nicest person you know, you can probably bet they eat meat and wear leather, right?
Yet why is it that we are not altogether consistent in our empathy for different forms of life? Is it not truly odd that a compassionate person caring for a pet poodle simultaneously does not mind eating a ham sandwich? Honestly, this should not be. Should not such a person intelligently express their compassion, if it is truly authentic, towards all forms of life; that would make sense, wouldn't it?
Perhaps one of the biggest tragedies of Man is that he does not take a mere sixty seconds to empathize with an animal, just about the time it took you to read this topic. Remember, every time you eat a piece of meat, wear a piece of leather, or commercially odorize your home, an animal dies. Wouldn't it be better to save an animal's life?
Further Reading
Spiritual, or
Secular
, Salutations
Opening Note: It seems, oddly enough, at times of heightened religious occasion, a myriad of controversies envelop. Or is that really so odd considering that 98% of the world believes in God...so it would follow logically that there must also exist an anti-God. Whether that is a contributing factor or not will remain a mystery, but this doesn't preclude talking about it.

I've encountered all of the following, as you might also have, during this past Lent, which leaves me with the task of humbly attempting to put to rest misbeliefs on the topics while simultaneously trying to clarify them. I will add, that I myself am part of the public pool of candidates succumbing to these misalignments.
At high holy days, what has become rather upsetting is the increasing trend for people to greet one another with the salutation "Happy Easter" and "Merry Christmas". Why is there a problem with that, you may ask? There is absolutely no problem, if the greeter and recipient
are real Christians
. You may further ask, "Well, I know plenty of Christians who exchange this greeting at Easter and Christmas, what are you talking about?" To answer this, and arrive at the critical point to be made, you first have to distinguish what qualifies one to be a Christian. For example, Person A is a regular Church goer, says their prayers, and sincerely tries to live according to the teachings of Christ. Person B has no affiliation with a religion, does not pray, interprets Easter as "a happy occasion on a sunny day where people wear nice clothes, go to church, and kids hunt for eggs" and very vaguely recalls a mild religious component, that Jesus rose from the dead. Now, A would do justice to greet B in the hopes of spurring on an increased respect for the true meaning of Easter. B, however, even though meaning well, is perhaps somewhat out of sync by offering a greeting of "Happy Easter". As much as B may mean well, which is great, the problem is that from the very bowels of B's intentions, there is no depth of basis for what Easter truly means. Easter is really not about bunnies and being friendly, even though those intentions display a fantastic and applaudable attitude. Easter technically is about celebrating the resurrection of Christ which can only be appreciated by understanding his life and passion, specifically on Holy Thursday and Good Friday as the new Passover Lamb being sacrificed to show us that sin can be overcome and a new life awaiting in the resurrection. This is technically what Easter is about and paramount to its understanding, and quite important. Even religious institutions are falling victim to a sort of misalignment, as not enough focus is being given to Christ's Passion by seeing a far too soon celebration of the Easter Vigil just 24 hours after Good Friday's service! Parishioners are bombarded with the Easter message of joy, but can't really "connect the dots". Rather, the celebration of joy can only come after the acknowledgement of suffering. It would therefore be wrong to play-down the suffering aspect of Christ's passion, because even though evangelism is about spreading the Gospel, or "good news" joyously, the recipients need to know why we are celebrating, not merely that we are celebrating. The well known evangelist Joel Osteen, for example, is renowned for preaching a message of joyous hope for mankind, however, what he fails to consider is that salvation involves suffering too. Indeed, the very crux of Christ's mission was to provide hope in the midst of turmoil, as he spelled out in his Sermon on the Mount. Increasingly, more and more folks are associating these Holy days, for example, Easter with tangential niceties but forgetting about the root reason, or at least putting the root secondary. If you study Man's timeline with respect to Christianity, you'd notice that Man began in paganism, adopted Christianity, and now is sadly reverting back to paganism. It is an extremely sad fact. In the above example, actually if you really think about it, isn't it just a bit disrespectful for someone such as person B to do this? It shows little consideration for Christ's passion, and without the passion, without the conquering of death on the cross, Easter becomes just another holiday like 4th of July, Thanksgiving, and Memorial Day and our faith becomes merely a label. Of course, no one is doing this intentionally; this being a societal evolution of misalignment in a way. We are all, including myself, person "B" at times in our life. However, as I like to think, it is not our mistakes that count against us in the end, it is what we do about the mistakes we make. Do we make an effort to reconcile and rebound? If you find yourself in such a predicament, do not blame yourself, for as devout a person you may be, still there exists room for improvement. Instead, take time to honestly reflect on the true nature of these special days. You will soon find yourself taking part in both the holiday and the holy day festivities!
Judging Others
This is a very touchy issue indeed. The big controversy seems to be, at what point does criticism become judgment. I once received an e-mail rebuke that I was passing judgment on choosing not to attend a Catholic church wedding ceremony for a divorced person. As you can imagine, this situation has been on the rise, with something like 52% of first marriages ending in divorce. Everybody was going "along with the crowd" except me. When asked why I opted out, I delicately stated that I did not think it was appropriate to stand before a couple in this predicament, as a witness to their marriage in a Catholic setting. Perhaps if they were at sea and married by a ship captain, then of course I would attend. Clearly divorce has not been allowed in traditional Catholicism, however as the Zeitgeist, the spirit of our times, would have it, our society has unfortunately wielded its influence to allow this. "You shouldn't judge others, only God is allowed to judge!" so I was reprimanded. I entirely agree...but not when it runs counter to the heart of what I profess to believe if I declare myself a true Catholic. For me, and many others in this category of integrity such as those belonging to Opus Dei, spiritual practices are no different than typical laws of society. And what happens if people decide not to yield to society's laws? For example, the typical traffic light, why should we wait until it turns green, why not go through whenever we like? Or the groceries in the supermarket, why not fill our wagons up and just steal them? Because established laws, whether they be secular or spiritual, are designed because of one fact that people seem to forget: humans are not altogether altruistic. Rather, they need rules and regulations to keep them in line. That's just the way it is, has been since the dawn of Man, and probably will continue to be. So, to constructively criticize someone for an obvious aberration may not necessarily be judging, but merely an enforcement of law. The police officer who pulls you over for going through a red light does not offer his opinion that you broke the law, he states so. And likewise, defenders of spiritual law simply do the same. That is why, for example, religious institutions such as the Catholic Church have guidelines on how to act, these are its 'laws' if a follower wishes to be a part of it. For what would we have but mass chaos in quicksand if no spiritual or secular laws were enacted? And where would our future be if everybody used the "you should not judge" excuse to do whatever they wanted?
Of course, defending our spiritual law should be done with care and compassion, something that we all, including myself, often forget to do. We are all breaking these laws to some extent. Some people are very religiously observant, but have no heart, and, some people have a ton of heart, but detest religion. As you see, we could all borrow certain qualities from each other. As pro golfer Tom Watson once said, "the best player is one who makes the least number of errors."
Saintly Sinners
Complementary to the above is the often used phrase "all of us are sinners", given as a response to one's questionable actions. This phrase is quite true, and no one should think that they are above or beyond sin. Even in the littlest unseen ways, our instantaneous thoughts for example, carry as much weight as words. Admission of sin is quite commendable, and even more so when it is done through the Sacrament of Reconciliation. But there is a problem here. While certainly true and applaudable, declaring oneself to be a sinner is only fully valid if the recipient does something about it. Too many people seem to think that their wrongful actions are justified by following up with use of this phrase. As if repentance suffices simply by admitting that all of us are sinners. Similarly, using the words "I'm sorry" cannot be excluded from the point. How many times have we, including myself, said we're sorry to someone for something and just left it at that. Spirituality then takes on a very limited scope, when so-called faithful people are contented, lose no sleep, and feel no guilt simply by going through these motions of protocol. One's faith belief then becomes misaligned, when for example being a Catholic now means that all you have to do is apologize and admit that everybody sins and you feel you've done your duty as a Catholic. Taking this example further, what then becomes of the original faith belief, when people only attend Mass occasionally, don't go to Confession, and practice contraception, all the while sincerely believing they are good Catholics because most Catholic people they know do this? It is a terrible trend, and in time evolves a faith belief into something grossly opposite its original principle. Declaring that all of us are sinners as a catch-all excuse is therefore poor justification if the individual does nothing about it. We have all fallen victim to this, including me. Even the Saints sinned, but chose to then make amends in order to rebound. And in the end, isn't it all about the choices we choose?
How a Compass Can Get You Lost
I was recently in a conversation with someone about religious institutions and how some people feel they are too restrictive. The person I was chatting with, a very conscientious, kind, good hearted individual, explained very eloquently that he thinks people should "follow their own compass" in deciding what values to hold as important for salvation. Initially I agreed with the person, however more needs to be discussed. It is true that each of us has a choice to make regarding our faith belief, some choose Christianity, some Judaism, Islam, Hinduism, Buddhism, etc. Some people choose their own beliefs, and some choose not to believe. To say that some people do not have disagreements with their chosen faith belief would be wrong. Indeed, in actuality most people find some aspect of their belief as not to their personal liking. Yet they still retain allegiance to the belief. This is human nature. You'll never get 100% compliance of course in something so complicated and significant as a religious belief. However, as much as the idea of "following your own compass" sounds commendable, I disagree with this person for one big reason: it fails to recognize the fact that humans are proven failures in spirituality and susceptible to evil. From the dawn of Man, was it not Adam and Eve who were living in a heavenly state but opted to disobey? This original sin has spiraled down into mankind and in a way, is part of our "DNA" if you will. Those who feel that they can attain salvation on their own and not be aligned with a particular faith are grossly neglecting this fact. Indeed,
the very reason that a Messiah came was specifically because we are born sinners!
If we were not, there would have been no Christ, no religion, and we would presently be living in heaven on earth. Mankind indeed needs structure and some degree of religious framework in order to attain salvation. When building a house, if you fail to follow the blueprints and 'wing-it' on your own, the house will collapse. Having a father who is an architect and a friend who is a contractor, I can attest to this! The "blueprints" of spirituality have been thoroughly tested and weathered; if anything we are at a distinct advantage having learned from thousands of years of religious belief systems and their prophets. Yet there are still some who insist their own bravado can independently ignore this fact and they can get to heaven. Granted all religious institutions, such as the Catholic Church, have their share of problems. Institutions are run by humans who make mistakes. But it would be foolish to abandon such institutions and 'wing-it', given the nature of Man's tendency to sin and the fact too that, if we say that we believe in God in the first place, we should equally acknowledge that Evil exists, and you wouldn't want to be in the forest by yourself when that beast is lurking. I personally would rather be part of a proven, weathered and defending team, even though I may disagree with some of its restrictions, wouldn't you?
As an example, earlier the subject of contraception arose and this individual stated that he didn't think there was absolutely anything wrong with it. As you can see, this person, as amicable and good-hearted as they are, created their own value belief for whether contraception was right or wrong, and perhaps fell victim to society's pressures, many of which are undoubtedly influenced by evil. Would it not be better to consider the Catholic Church's longstanding, 2000 year's worth of thinking on the topic in such minds as Thomas Aquinas and Karol Wojtyla? I think we need to be honest in admitting that we are not individually strong enough to withstand temptation, that we need religious institutions to create the framework inside of which we can paint the portrait of ourselves so as to attain salvation and return to that pre-Man heavenly Garden of Eden. Humbleness, humility, and a bit of smarts may be what we all need more of.
The Everlasting Immortals of Lutcza
Note: this is the final part of the series "Lutcza and the search for babci Turon's house". Part's 1 and 2 can be found
here
.
Memories of an age long forgotten invaded our minds as we exited Lutcza's old church of the Assumption. Standing there, we visualize into words our little babci running across the nearby wildflower meadow at the beckoning of church bells. Yet, here in Lutcza, we'll shortly discover that nothing is forgotten.
"Let's check the cemetery for any Turons" said Joanne. I have always held a special affinity for cemeteries, being surrounded by the dead, thus realizing what life is about. As we enter, it is filled in disarray with various 19th and 20th century tombstones and iron crosses. However, its revelations soon become quite clear. Turons are here, there, and everywhere! Judging by the extent of the Turon family baptismal records, we realize that yes, these graves hold the bones of our distant relatives. An incredible discovery in itself! However, as an avid gardener, the quest for deeper "roots" leave me scratching my head a bit…
Driving down the road, we spot two very old gravestones in the distance just at the edge of a hilly forest. "Up there!" I exclaim, as we then turn onto a gravel road and approach the site. As we pull over to the right, I dash over to inspect the two stones, glance into the woods, and suddenly realize that this duo is all that remains visible of an ancient, abandoned cemetery, completely absorbed by the growing forest! Up to my belly button in tall straw grass and thick weeds I braved this forgotten cemetery attempting to spot an ancient Turon. Nearly all of the headstones were washed out and worn, rendering their identity impossible. I then spot the ruins of a small shrine with about ten thousand blackbirds nesting inside.
As I bushwhack like a hunter out for his prey, they quickly get spooked and haphazardly fly towards me like something out of a Dracula film. Creepy.
Exiting the ancient cemetery wearing a sour puss, I relayed that emotion to the others who were standing outside the parked car. And then, absolutely out of nowhere, appears a woman in a red vest! She smiles at my mother and exchanges a distant hello. Then, one word became two, two became three, and the next thing we knew, we were sitting around a kitchen table with her family enjoying warm conversation and paczki! Ten minutes ago, we never knew these people, and now it seemed as if we knew them forever.
She, together with her husband, daughter, son-in-law, and their two children holding newborn kittens, exhibited the gracious hospitality known only to fairytales. Both the woman and her husband were quite knowledgeable on Lutcza's history, and, via an English translation from their son-in-law, took us into their backyard and provided us with the answer to our ultimate question. The husband pointed to a hilltop in the distance overlooking the old Assumption church as we received his translated confirmation: "There, on that hilltop lived the Turon family."
Sadly, nothing remained of our babci's homestead but a few blades of grass. However, it soon became clear to us that despite the lack of a tangible structure, despite the skeletons and the washed out gravestones, our quest revealed that essentially, our babci's life never really ended. Poland immortalizes her life and countless others through what we have just witnessed. And what a blessing that is for us.
No Nuke for You
It's interesting to discover that, what's good for you, may not be good for another. Or should it? Perish the thought that Iran engage in a nuclear program to allow itself the ability to develop and become a more energy efficient nation, and yes, at the same time arm itself with a contemporary weapon. "Oh no" say we, "they can't develop nuclear power, they're bad people." The headlines are everywhere, and the talk of the American town is "Just say no to Iran".
Interestingly, did anybody stop to realize the countless number of people saying no to America when it wanted and succeeded in developing the world's number one arsenal of nuclear strength? Yet, we are "civilized" and Iran is uncivilized, isn't that it? How dare we allow a regime who stated that Israel should be eliminated, to own nuclear power. On the surface, the logical mind would agree: No nuke for you, Iran! Because you have made that statement of hatred, it would follow then that you might use your nuclear power against your neighbor. A perfectly reasonable conclusion. However, reasonable in who's mind?
The typical Iranian may indeed make an equally logical argument against America. If life and death are the real concerns of this whole issue, the United States would then be guilty of killing millions of innocent people, perhaps exponentially quadrupling the number of potential fatalities that an Iran vs. Israel conflict would cause. "When, Mr. Iranian" we refute, "did we kill so many people in the basis of your claim?"
Abortion. You see, by condemning Iran for its threat of a nuclear bomb, what we fail to do is consider that, to the Iranian, we continue to "nuke" millions of our own pre-born people through legalized abortion. In Iran, if someone were to have or perform an abortion, they would be taken to the town square and nearly disemboweled. Cruel, uncivilized, you might say? That is where we return to what is considered "reasonable and civilized."
What we consider as reasonable and civilized may be considered as unreasonable and uncivilized to other cultures, and, what we consider as unreasonable and uncivilized may be considered as reasonable and civilized to other cultures. Americans, simply because of legality, consider abortion to be reasonable and civilized, and for example, hanging an accused criminal from a soccer field goal post to be unreasonable and uncivilized. We conclude therefore, that it's "okay" for pre-conceived babies to die, and, that it's outlandish to hang a person in such a manner. This does not bother our conscience. On the other side of the perspective, Iranians consider abortion to be a grave sin, unreasonable and uncivilized, and executing someone from a goal post to be reasonable and civilized. This does not bother their conscience.
Therefore, perhaps we should think twice about condemning a nation for its actions, and in this case, its nuclear ambitions. In our mind, yes, we see potential trouble. But we need to realize that in their mind, yes, they are saying the exact same thing about us.
This essay is not in defense of a particular position on nuclear weapons, but merely to shed light on the root cause of our conflicts. So, the real question is, who is one nation to declare what another nation should or shouldn't do? What we are ultimately dealing with is a global ethnic, cultural, and moral value system conflict. So-called "natural law" may not necessarily be universal. Because what is "natural" may be entirely dependent on upbringing, culture, and history. It is said that we are all "tabula rosa", or blank slates, at birth and only through life do we develop a value system. The wandering nomad in the desert may have an entirely different value system than the executive on main street. Are we to declare which one is right and which one is wrong?
And therein lies the issue…
Ostrowski's Response: The Curious Case of Ryan Hammons
In response to my story titled "The Curious Case of Ryan Hammons" (see below), a total of 137 people responded with their opinions. Results were tallied and posted, 51 people declared the story to be true, 17 were not sure, and 69 said it was false. Not surprisingly, the results seemed to confirm the fact that the majority of us are living our faiths...in a box.
I want to clarify perhaps a misunderstanding many people may have had upon reading my Hammons story. Several people indicated that "it is better to stick with their own faith rather than consider other possibilities", and that "we should not follow man's thinking on the subject". I also received a few responses saying "if the boy wasn't Christian, we don't know what happens to his soul."
First, by mentioning "rather than" in the sentence above, readers may have missed the point. The basis of my theory was to explain that we need not take sides with one faith and reject another, but rather consider the harmony of all of them. To consider "other possibilities" does not necessarily mean that one must reject another faith, as in the "rather than" response. This is my whole point. Many people like to categorize spirituality within a given framework (Christianity/Hinduism/Buddhism, etc.) simply because the mind finds this a convenient way of understanding and then they can live their life by this framework. However, what I am suggesting is that we should further add consideration for other faith beliefs into our life, not to abandon our given faith, but to expand it by adding other ideas. For example, I am a Catholic, I am remaining a Catholic, and (not but), I also believe some aspects of other faith beliefs such as Incarnation in Hinduism. Buddhism also has some very valid truths, as well as several other religions. As you see above, I used the word 'and', not 'but', because 'but' implies a compromise on the former, however using 'and' implies an integration of the two.
We need to finally realize that ultimately we are all in the same boat. Because all faiths bring some degree of validity to the table, it is wise then to think outside the box, realizing that divisions of religions, like our world has developed into, are terribly immature if we are to consider the very nature of an omnipotent, all powerful God, who manifests himself in a trillion ways across the planet. But the problem is, we like to think that this manifestation is exclusive to Christianity, or Hinduism, or Judaism, or Islam, etc. So Man does actually need to think more and realize his human understanding of spirituality is merely a grain of sand on the beach. Can you imagine what your deceased relatives are experiencing right now? In our wildest imagination we cannot fathom the immeasurable scope of life after death. All things then become known, and we will perhaps see the little 'box' we all lived in, with our mouths open in awe at what we never thought was possible. We need to perhaps remember what Mohandas Gandhi said: "Yes, I am a Hindu, and a Buddhist, and a Christian, and a Jew, and a Muslim." He makes a perfect point.
Some readers also countered by arguing that, "Well, how can one be, for example, a Hindu and a Christian at the same time? Surely these faiths have conflicting beliefs." In actuality however, that conclusion is absolutely incorrect. What we need to understand is that all religions have evolved since their creation, however, the core of all religions is essentially the same. It was only because of Man's intervention that religions developed distinctions and exclusive tenets, which were added to the faith's core after the founder of the faith departed. For example, if we look at the core of Christianity, nowhere in Christ's teachings does he indicate that Reincarnation is wrong. It was only centuries later that disciples of the Christian faith, specifically Catholicism, decided that Reincarnation was wrong. One may then argue, "Well, the decisions of these disciples are guided by the Holy Spirit so we must conclude that whatever they teach us is true." Yes, I would agree, but at the same time, make the point that if we accept some men's decisions as being guided by the Holy Spirit, why then do we reject other men's decisions as not being guided by the Holy Spirit? Rejecting Reincarnation means rejecting what Gandhi taught. But should not Gandhi be worthy of being guided by the Holy Spirit? So, our religions today have unfortunately become very exclusive and covetous due to Man's infiltration and selfish desire for his faith to be unique, far from their original core founder's mission which was identical in all religions.
To clarify the point, I often ask people two questions. Let's say there's a sweet, loving, and innocent 10 year old Christian boy who suddenly dies. Does he go to heaven? Every Christian I have asked this to, including Catholics and Evangelicals, very firmly say "Yes, this boy will go to heaven." I then ask them a follow-up question. Let's say there's a sweet, loving, and innocent 10 year old Buddhist boy who suddenly dies. Does he go to heaven? And their response is, "Well, we don't know what God holds in his infinite mercy." On the surface, this may seem like a nice answer to give, however, it is actually an immature insult to spirituality. Do you see the mentality driving the different responses? By not giving the same firm response as in the former question, the Christian is inferring that the Buddhist boy may not go to heaven, even if it's a subtle inference, in however nice a statement they want to give. And you need not be educated about Buddhism, or any different religion than your own, to offer the correct answer, which should be the same for both questions.
For the 69 people who said that the Hammons boy case, which was well documented, examined, and tried to be debunked, was false, your negative reply may be proof-positive that we are indeed living our faiths...in a box.
The Curious Case of Ryan Hammons
Six year old Ryan Hammons of Oklahoma has been for the past three years declaring himself to be a former Hollywood actor. The young boy specifically pointed out his "former" self while browsing through a film-noire photo book. A child's fantasy, you might say? Not quite, because Ryan described over one hundred details about the life of the man in the photo, who appeared obscurely in the background, having no clue as to his identity which was not listed anywhere. In fact, the case was brought to a University of Virginia past-life research group, who's doctors have documentated hundreds of such cases usually occurring in children less than ten years old. The group petitioned the Hollywood film preservation society, who meticulously identified the man in the photo from archived original film scripts as Marty Martyns. Interestingly, 90 out of 102 details the young boy gave since he was three and before he even saw the photo were completely true, including the street Martyns lived on, interior details of the Rolls Royce he owned, and the name of his wife. Ryan, or "Marty", was asked why he had come back. And the boy's response: "My old me has to relearn lessons because of greed."
Reincarnation? My earnest opinion, which supports the idea of Purgatory, is that souls such as Martyns are paying reparations for their sins by their spirits being incarnated, not reincarnated, in other people. Interestingly, when this story was relayed to a few of my elder friends and relatives, their immediate reaction was "No, no, no. Nobody's spirit comes back. They belong to the church in heaven and we belong to the church on earth, that's all." This typical "we're right and everybody else is wrong" response is found in many westernized religions, including Christianity. Objectively speaking, to flat out condemn any spiritual phenomenon without disproving it is entirely wrong. Yet we see this philosophy manifesting itself in the thousands of religious sects and branches in our everyday world, each purporting that they are the one true faith. If you disagree with Ryan Hammons being the incarnated spirit of Marty Martyn, then prove your point. If you cannot prove your rebuttal, then the objective mind must accept the fact that all indications from diligent and exhaustive efforts reveal that this is clearly a case of either incarnation or reincarnation. But still, we crawl back into our holes and stubbornly refuse to accept the facts.
It may not be so far-fetched for the typical Catholic, for example, to understand what happened here, since Catholics already believe in Purgatory, a "holding state" between Heaven and Hell. Consider that Martyn's soul, along with billions of others, are in Purgatory praying for the opportunity of reparation for their sins. Most people already accept that the souls of the dead are praying for us, just as we pray for them, in fact we often invoke their intercession don't we? Indeed, Andrew Ostrowski.com would argue that if anyone needs prayers more, it would be us on earth rather than the other way around, the souls in Purgatory. This website would further argue that deceased souls are probably continuously praying for us left and right because these souls went through the life/death process, committed their sins which they regret, and now are desperately seeking grace, so therefore they intensely pray for us as a reparation. Well, why then is it so incomprehensible to believe that God answers a deceased person's "prayer" allowing them to be instilled into our earthly lives to help us? Indeed that would be an excellent way to offer earthly assistance and the ultimate answer to a prayer! Incarnation of deceased spirits is very real and happens all the time unbeknownst to us, as in the case of Ryan Hammons. It is very important to point out that with incarnation the host soul, such as Ryan's, still bears responsibility for their own soul, but the spirit of the deceased soul helps the earthly host soul perfect itself, thereby allowing the deceased soul to gain grace so as to leave Purgatory. We don't realize this of course simply because we don't spend time thinking about it.
Honestly and sincerely, step back a minute and ask yourself: "Why is it hard for me to believe this?" You may soon realize that you have probably been groomed and conditioned to accept a certain religious mindset. I would offer a solution. Instead of being robotic, ritualistic people of a religion, let's try to use our God-given minds to think, think, and think even more about what life and death are really about. Ask questions, be open minded, don't be afraid. Asking questions and thinking about your soul is how you learn and grow. Consider that there is ample evidence supporting many facets of spirituality, including Incarnation, even though your faith belief may never teach about them. Only afterwards then can we appreciate the true meaning of life and death and see the universality of it all. For example, I am a devout Catholic, and I accept some principals of other religions simply because I have pondered them, researched them, and came to an intellectual conclusion. I am a Catholic not because I have been blindly conditioned, rather, I am a Catholic because I personally pondered its teachings and made intellectual conclusions. We should not "take sides" with our faith, but rather see that there is truth and merit in nearly all religions, including the fact that this young boy is clearly experiencing an incarnation of a deceased soul. So, dead people are actually not dead after all, but in fact very much alive and interactive in people's lives, through intercession and incarnation. And what a wonderful thing to realize. Why then do we fail to spend time sincerely thinking about our life after our death? The big question is, after reading about this young boy, are you going to once again close the book and continue to live your life as usual, caught up in your everyday web of physical doings, what you will eat, what you will wear, or are you going to take a little extra time to think about your own very real, validated, and proven life after your own death as this story proves? When are you going to start thinking?!
See this website's section Totus Tuus Opus Dei for the distinction between Incarnation and Reincarnation.
Read the story
about Ryan Hammons and Marty Martyn
See
http://transcripts.cnn.com/TRANSCRIPTS/0912/22/lkl.01.html
for a televised media discussion on the topic.
Wartime Accountability
Veteran's Day has always been quite memorable, and this year I had the opportunity to view three films that simply do a superb job at portraying our heroic servicemen, specifically from World War II. Twelve O'clock High, starring Gregory Peck, highlights the aerial bombardment efforts of the Allied forces against Germany's war-specific technical factories, such as ball bearing plants. As I watched the film, I was reminded of my own uncle, Stanley Ostrowski, who took part in these missions. The Great Escape appeared next on the screen, which details the heroic tunneled escape of 76 Allied prisoners of war from the infamous Stalag Luft 3 in what is now Zagan, Poland. And lastly, The Stranger, a brilliantly suspense-filled film-noire starring Edward G. Robinson and Orson Welles. Robinson, a Nazi war crimes hunter, tracks the notorious SS officer Franz Kindler, played by Welles, as the desperate German escapes to the U.S. and finds safe haven as a college professor in a quaint New England town. A potentially true to life story, although accountability has never fully been reached in regard to all of these war criminals. However, what failed to escape my attention was the afterthought of this so-called "accountability". What has been done to bring to justice ALL of the contributors to the "final solution?" I'm referring specifically to the company that supplied Zyklon B, the principle killing agent at Majdanek concentration camp in Poland. This cyanide based pesticide was first used on sick Poles at Auschwitz, then used to kill roughly 1.2 million more people. The company defended itself by claiming its product was meant for "rodent extermination" as was clearly stated on the label. However, how does such a company escape full prosecution when it obviously supplied thousands of Zyklon B canisters to the Nazi war machine? Not to mention the bricklayers and oven suppliers who built the crematoriums and said nothing. Indeed there may still be numerous "Franz Kindlers" out there.
Who's the real Bull in Bullying?
We begin this week with reports of yet another bullying incident making headlines. It is rather interesting to learn that repeatedly, despite exemplary efforts made by newscasters such as Anderson Cooper and Dr. Phil, no one seems to realize the root cause of these tragedies. Blame is continually placed on big, brash kids who taunt calls of "sissy" at fellow schoolmates who happen to speak or appear less masculine. However, are these antagonistic kids really to blame? What should we expect when our children are brainwashed by so-called PG-13 rated movies promoting the ideal male image as being muscular and aggressive? Added to that, the all-American values our culture promotes is its man-against-man competitive drive instilled in our children. And God help the kid who prefers reading a book over playing football. Perhaps we should be blaming ourselves, not our kids.
Un-Occupy Wall Street
If only society would realize that, regrettably, the only reason that America has always stood atop the world and is idealized has been largely due to...the rich. Clearly it is an historic fact that private sector big businesses and entrepreneurial moguls have always been the impetus for economic growth in this country, NOT the fair-minded Democratic ideal we all think our country embodies. Indeed, arguably the only reason you and I are successful is because somebody somewhere is not. Such is the price paid for capitalism. For what is the "American Dream", but a desire to prosper, not to share the wealth as these protesters seem to be hinting at in some form of Democratic Socialist movement likened to the John Doe club. If there exists such a Utopian society somewhere in the figment of our imagination, there must be an unlimited supply of resources to be had. Unfortunately, reality tells us that there is only so much to go around, therefore our society has resorted to a battle between the have and the have-nots, masked under the guise of "Democracy". Ask the homeless person living in the gutter, proof positive, or the tycoon living on the hilltop. The Occupy Wall Street argument is ignorant of the fact that the mere ability of these protesters to protest in the first place is entirely because of capitalistic freedom. Were their signs and drums given to them for free? No, they earned money, bought the materials, and now are toting these signs and beating these drums, paid for with money. Essentially how then does that become different than the tycoon earning money and buying a yacht? Is this a qualitative issue or a quantitative one? Is it not therefore ironic and hypocritical for a group of people, having the freedom to protest and earn and spend money, to then protest against the very reason why they are able to stand there? True, capitalism is one of the furthest ideologies to Christianity. However, how does one grow in Democratic Socialism? Perhaps we have finally reached the crossroads of our juxtaposed self-destruction.
Sex Ed 101 in your kid's classroom
In a "brilliantly brainless" decision, New York City schools chancellor Dennis Walcott has decided that Sex Education 101 will now be a mandatory class for all NYC public high school students. Great, let's set an honorable example, show the kids how mature we are, and feed them info on the tactical methods of how not to get pregnant so they can be just like us when they grow up. Idiotic thinking strikes again! How about teaching the kids about the sanctity of life, and that the procreative process which gives life is therefore sanctified as well? Shouldn't our goal be to get these kids to appreciate life to the point where they cherish it, care for it, and nurture it, thus reserving their sexual activity for the exclusive intent of bringing a new life into the world? Wouldn't that be the best approach? But no, we throw them a prophylactic and a couple of how-to slide shows using a banana and consider ourselves "very wise and learned educators." Fortunately, protests have ensued, signifying the last dying hope of a people still showing some degree of moral fabric about them. The mere fact that the story has made headlines is evidence in itself that we still hold ourselves accountable to some kind of moral standard, as low as that may be. And talk about anti-discrimination policy supposedly enforced in the learning curriculum. Is it not then a discriminatory act to only teach kids the methods of contraception and to not teach them about abstinence? Surely this then is discrimination against religion, including Catholicism and Christianity on the whole!
Dangers of the la-de-da society

Have you ever dreamed of living in a cool, oceanfront town, where fresh air is plentiful, songbirds are singing, and everybody is wearing a smile? Indeed such places exist, such as the small town I once happened upon around Chesapeake Bay. Driving the required minimal speed limit enforced by privately hired police, I noticed home after home, each one worth more than my watch's calculator function could display. Comprised entirely of upper middle class residents, everything about this town was perfect. No garbage in the gutters, no potholes in the roads, no graffiti, and nobody arguing, everybody greeting one another happily and saying nice things. In short, the perfect, quintessential la-de-da society bearing no troubles, no worries, and no fear. Wouldn't you like to live there? You'd better ditch God, because in the la-de-da society, there simply is little to no need for faith. Why? To answer this we must realize that faith often develops out of a society's need to alleviate its woes with some kind of assurance that better things are to come. Indeed studies indicate that cultures having the most diverse peoples are more inclined to have active faith communities simply due to different peoples interacting with one another causing strife. Additionally, in such diverse cultures, intellectualization often increases because it forces people to think more about such strife situations. The result being the need for religion to factor into the remedy. However, in the la-de-da society, there is little strife, and so there is little need for religion. What happens to a family of five when the parents fail to regularly habitualize their children to established faith practices? In the la-de-da society, parents teach their children to be a "nice person" and feel no need to regularly condition their kids spiritually. What then will these children eventually teach their own children, and what will their own children eventually teach their children? In time, the la-de-da society itself thus becomes the religion. A homeowner in such a society would say "Well, what's wrong with teaching my child to be a nice person?" The answer is, nothing is wrong. But only a fool would fail to realize that Man, by his very nature as witnessed in history, is not strong enough to live a spiritual-less life and simultaneously maintain perfection. If he were, we would all be living in heaven on earth. Therefore, the la-de-da society, as innocent as it may seem, actually ends up being counterproductive in the end.